Marrybrown expands by opening their 10th UAE Outlet at "The Dubai Mall".
15 Jun 2020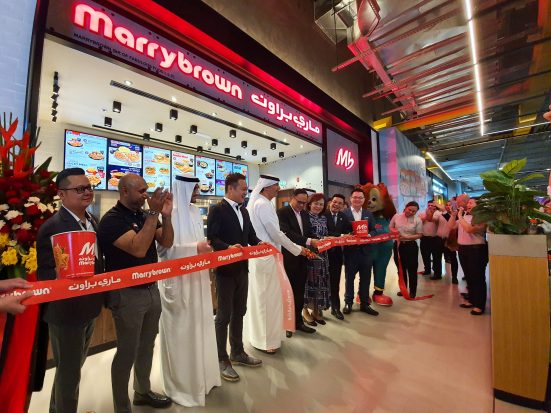 Click here to see more images and videos.
Opened on December 12, 2019
Marrybrown, one of UAE's leading Halal quick-service restaurants expanded last week by opening their 10th UAE outlet in the Food Hall at "The Dubai Mall" Zabeel.
Announcing this in a press release, Mr. Imran Akhtar, General Manager of  Marrybrown UAE said that the opening of the new outlet is a momentous occasion. We are carrying on the tradition of the established Marrybrown brand name from Malaysia, and we have been serving undeniably great products in the UAE for nearly 20 years.
The new outlet was inaugurated by Mr. Hadi Ebrahim Al Abbas, CCO of Al Abbas Group in the presence of H.E. Mohd. Hasril Abdul Hamid, Consul General of Malaysia, Mr. Ali Ebrahim Al Abbas, COO of Al Abbas Group, Mr. Abbas Ebrahim Al Abbas, Board Member of Al Abbas Group, Dato' Lawrence Liew, Founder of Marrybrown International, Datin' Nancy Liew, Managing Director of Marrybrown International, Dato' Joshua Liew, CEO of Marrybrown International, Mr. David Liew, CFO of Marrybrown International, Mr. Michael Liew, Business Development of
Marrybrown International, and Mr. Imran Akhtar, General Manager of Marrybrown UAE. The event was also attended by valued Marrybrown guests, its partners as well as loyal customers with first 100 customers receiving a Marrybrown gift bag.
Marrybrown's menu features a wide range of chicken products, including the Hotouch and original chicken, chicken fillet sandwiches, specialty wraps, special rice meals, as well as a range of beverages and desserts. Founded in Malaysia in 1981, Marrybrown serves 'The Ultimate Chicken' experience across 16 countries worldwide through a chain of more than 500 outlets.